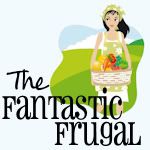 Just to introduce myself. My name is Michelle, I am married to my best friend. I know everyone says their husband is their best friend but he truly is. He makes me laugh every single day. He puts the needs of me and the children far above his own. He is just the best. Together we have 4 daughters ages 13,10,6 & 3. And we also have two kitties and a precious pup who is 8 months old. We are a Homeschooling family who recently moved to Ohio. We are the crafty type we are always working on some new project, and love to play games and have picnics in the park. We have been a single income family for nearly 8 years and we have found plenty of tips and money saving tricks along the way.

I think the most commonly asked question is "how do you do it" and its laughable to me because my snarky side always wants to say "how do you not do it" I don't always know which thing in my life do they wonder "how" I do it, if its the single income, the having 4 girls or the homeschooling. So of course their is no simple answer to that question. So i figured, I'll blog it.

Our life isn't simple, our life is not normal. Everything else just sounds boring to me. I hope you enjoy the blog and that you will show some love by following us.

And please take a moment to look at our prayer list and pray for them. Little Emily is nearing the end of an 8 year battle with Mito and its breaking the hearts of her family and friends. If you know a child who needs our prayers please post a link for us so we may add them to our list.